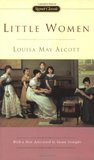 Little Women by Louisa May Alcott
My rating: 3 of 5 stars
Well this is a bit of a change of pace. I find myself in the genteel environs of a family of girls in the middle of the nineteenth century where life seems saccharine sweet and cozy on the surface, but is brimming with social and existential tensions underneath. For there is a Civil War raging on, and the March girls' father is away fighting while his wife and their daughters tend house as best as they can.
In fact, the primary reason I wanted to delve into this classic from another century is because Geraldine Brooks' March has been on my queue for a while now, and it deals with the father's story away at war. Figured it would be good to get an idea of the family he has waiting for him at home.
And despite my worries of being drowned in a sea of Victorian sentimentality and womanly pursuits of the time, there is still quite a Capital time to be had here (as they would have called it themselves). Of course there is a lot of sewing going on here. Looks like it was a primary pastime and pursuit for the women of the time.But then this is one of the things that is fascinating about the book – this intimate look at the lives of four perfectly fine girls of the time. The eldest is Meg, a prim and proper young lady who guiltily dreams of luxury but whose heart is at home. Then we have probably the main protagonist, Jo, who is what would pass for a tomboy at the time and who has a desperate free spirit locked inside her soul craving to get out. The selfless and painfully shy Beth is next in line, while the youngest is Amy. Their mother, Mrs. March, is a fountain of care and concern dishing out morality lessons in her own way almost every chapter. Hannah, their long time maid complete the family. Into this cocoon come the rich old gentleman next door, and his grandson Laurie who becomes a fast friend of the family, particularly of Beth.
Yes, there is a lot of sermonizing at times, and sometimes the sweetness can overwhelm, but this is not a story of four women who just want to find men to marry. This story tackles the women's identities and desires with a level of discernment which was probably apt for a children's book set at the time. Louisa May Alcott herself seems to have been something of a rebel herself from what I could read about her. She has a gentle way with words and cleverly brings out important life lessons in each chapter in a steady and non-patronizing manner. There are bad times too, and the love the sisters show for each other and the uninhibited and non-expectant innocent love of Laurie and his grandfather can teach a lesson or two to this disillusioned generation on the simple, redeeming qualities of the heart.
There are some things which would appear an anachronism in today's cynical times. The old man's love and physical proximity to Beth would probably never be alluded to today (with good reason), and of course the usage of some words which wouldn't wash today. Yet, this is a touching read which should make most people happy. I've heard that the sequel to this 'Good Wives' is sometimes published along with this as one volume. However, the edition I had did not have Good Wives, so I'm not sure how I would react to some of the developments alluded to in the other reviews I've read on it here.
I'm looking forward to reading March by Brooks now, but she does have something good to live up to.